Open during COVID-19 Pandemic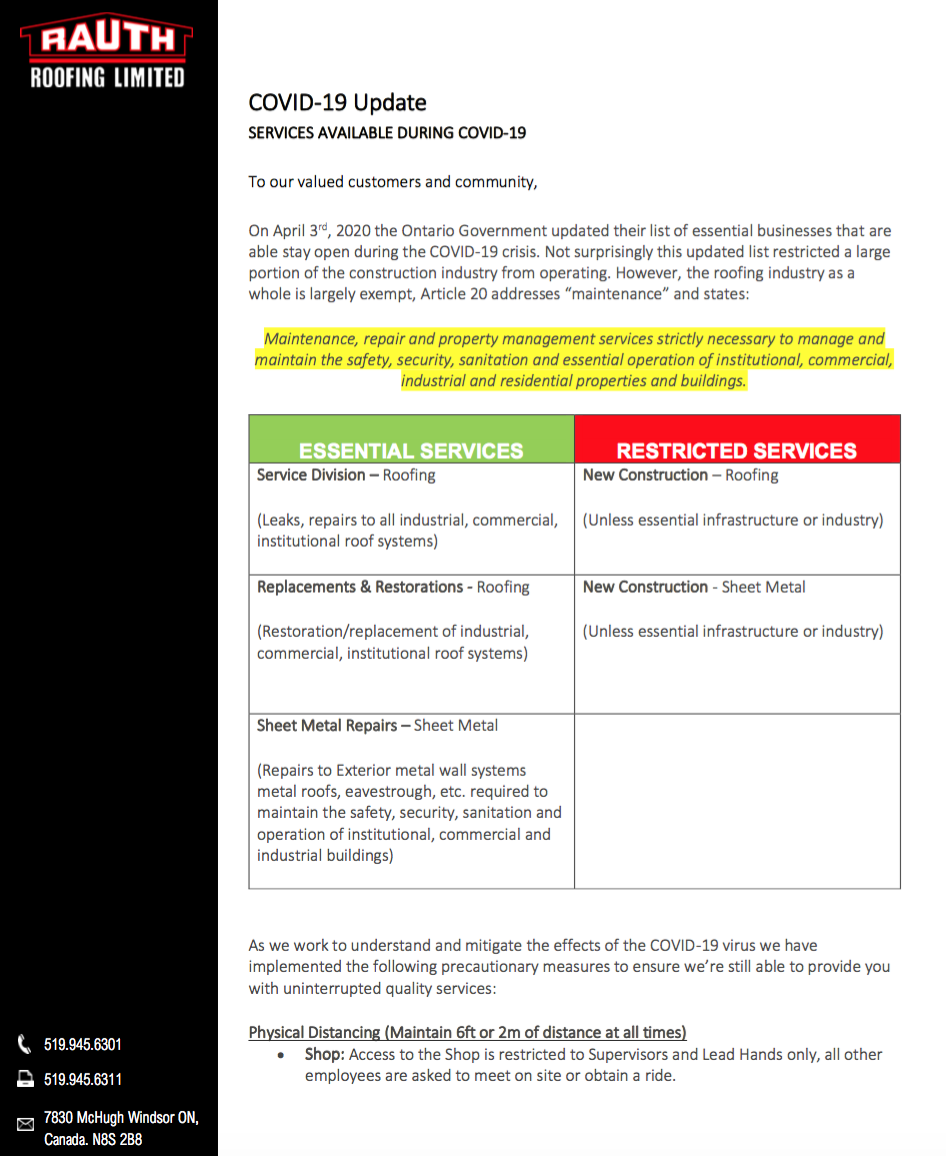 Added 3 years ago
Open during COVID-19 Pandemic
---
COVID-19 Update
SERVICES AVAILABLE DURING COVID-19
To our valued customers and community,
On April 3rd, 2020 the Ontario Government updated their list of essential businesses that are able stay open during the COVID-19 crisis. Not surprisingly this updated list restricted a large portion of the construction industry from operating. However, the roofing industry as a whole is largely exempt, Article 20 addresses "maintenance" and states:
Maintenance, repair and property management services strictly necessary to manage and maintain the safety, security, sanitation and essential operation of institutional, commercial, industrial and residential properties and buildings.
ESSENTIAL SERVICES
Service Division - Roofing
(Leaks, repairs to all industrial, commercial, institutional roof systems)
Replacements & Restorations - Roofing
(Restoration/replacement of industrial, commercial, institutional roof systems)
Sheet Metal Repairs - Sheet Metal
(Repairs to Exterior metal wall systems metal roofs, eavestrough, etc. required to maintain the safety, security, sanitation and operation of institutional, commercial and industrial buildings)
As we work to understand and mitigate the effects of the COVID-19 virus we have implemented the following precautionary measures to ensure we're still able to provide you with uninterrupted quality services:
Physical Distancing (Maintain 6ft or 2m of distance at all times)
· Shop: Access to the Shop is restricted to Supervisors and Lead Hands only, all other employees are asked to meet on site or obtain a ride.
· Shop Office: Access to the Shop Office is restricted to Divisional Supervisors. Foreman are encouraged to utilize facetime and mobile devices in lieu of meeting in person. Should a meeting be required please ensure physical distancing is practiced.
· Main Office: The Management team is working remotely only utilizing the office when absolutely necessary.
· Transportation: Company vehicles are allowed to have a maximum of (2) occupants and where possible limit to (1)
Hygiene and Housekeeping
· Start times have been staggered into (4) different time slots so our Health & Safety team has time to sanitize the facility between each shift.
Customer Interaction
· Although we pride ourselves on our customer service and creating longstanding relationships through face to face interaction, we're asking for clients to respect physical distancing guidelines and when possible abstain from meeting our Field Technicians and Supervisors.
Thank you again for your continued support, please feel free to contact us with any questions you may have.
Brad Laforet
General Manager